Back to all articles
InsightART wins the ArtTech Prize 2020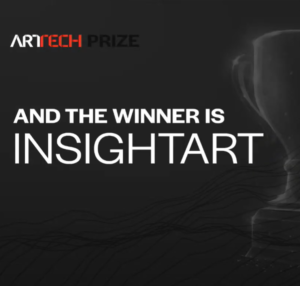 We are extremely delighted to announce that InsightART is the winner of the ArtTech Prize 2020. The prize recognizes start-ups that bring science and technology to the world of art. This competition was organized as a part of the annual ArtTech Forum; an international conference that connects cultural institutions such as museums and galleries, together with scientists and startups who bring innovation to the world of art.
The 4th edition of the ArtTech Forum took place on the 5th of November in the form of the online event. We had an opportunity to experience a very insightful and exciting afternoon, full of interesting keynote speeches, panel discussions, parallel sessions, and networking with an international pool of experts from art, science, technology, and entrepreneurship. If you missed this event, you can find the recordings of the various sessions on the ArtTech Forum Youtube channel.
The ArtTech prize represents the best art tech startups and we acknowledge the quality of all competitors. Startups from the domains of digital visuals arts, entertainment, publishing, literature, music, archiving, and cultural heritage had a chance to submit online submissions. We were happy to be amongst the group of eight finalists selected by the international jury to participate at the ArtTech Forum and compete for the ArtTech Prize 2020.  Prior to the event all finalists recorded a short video pitch which was available to the attendees of the conference during the whole day (please see our video presentation below).  InsightART CTO Josef Uher represented us at a live panel discussion where attendees could get to know the competition finalists.  This win is a great honor for InsightART. We are very grateful and give a big thanks to all who supported us with their vote.
The ArtTech Forum and ArtTech Prize 2020, was organized by the ArtTech Foundation in collaboration with ETH Zurich.  We would like to thank them for organising an informative and inspirational event. We encourage art tech entrepreneurs and all people from the world of art to join the conference next year and we hope that circumstances will allow us all to meet personally at the next year's edition.