Back to all articles
Otto M. Urban joins InsightART's Advisory board
As part of our on-going efforts to find the best solutions for art analysis, we are excited to cooperate with leading experts in the fields of art authentication and scientific research.
Otto M. Urban
Otto M. Urban specializes in modern and contemporary art, mainly the art of the turn of the 19th and 20th centuries. He studied at the Philosophical Faculty of Charles University in Prague, where he received a doctorate in the history of art in 2000. In addition to curatorial and publishing activities, he is also involved in pedagogical activities.
Since 2010, he has been working at the Academy of Fine Arts in Prague, where he was the Head of the Department of History and Theory of Art from 2012-2016. He lectured at the University of Texas at Austin, The School of the Art Institute of Chicago, and at the Prague branch of New York University. From 1994-1999 he worked for the Umění / Art magazine (IAH CAS CR).
Since the early 1990s, he has been intensively devoted to studying Central European symbolism and, in particular, decadence. In 2017 he became a curator of the 19th Century Art Collection at the National Gallery in Prague. He published, for example, monographs of Karel Hlaváček (2002), Alfred Kubin (2003), and Edvard Munch (2007).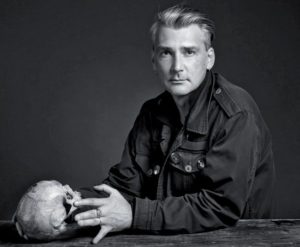 He has also prepared a number of exhibitions in the Czech Republic as well as abroad, for example "In Morbid Colours: Art and the Idea of Decadence in the Bohemian Lands 1880-1914" (Municipal House, Prague 2006), Dekadence. Bohemian Lands (Hotel de Ville, Brussels, Musée Félicien Rops, Namur 2009). He is also the author of the exhibition Decadence Now! Visions of Excess (Galerie Rudolfinum, Prague 2010), a retrospective of Joel-Peter Wittkin (The Brno House of Arts, 2010), Gilbert & George (DOX, Prague 2010), and David LaChapell (Galerie Rudolfinum, Prague 2011).