Back to all articles
Monsignor Timothy Verdon joins InsightART's Advisory board
As part of our on-going efforts to find the best solutions for art analysis, we are excited to cooperate with leading experts in the fields of art authentication and scientific research.
Monsignor Timothy Verdon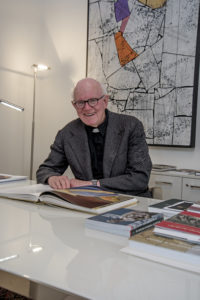 Monsignor Timothy Verdon, Director of the prize-winning new Opera del Duomo Museum, in Florence, Italy, is a Roman Catholic priest, Canon of Florence Cathedral, and a professional art historian with a PhD from Yale University and numerous publications to his credit. He has been Consultant to the Vatican Cultural Heritage Commission and a Fellow of the Harvard University Center for Renaissance Studies, Villa I Tatti, in Florence. Curator of major exhibitions in Italy and the United States, and organizer of international symposia, Verdon also teaches for Stanford University's Florence program. Among his recent public lectures have been presentations at the UN Conference on Religious Tourism, at Utrecht, at Oxford University, at the Institut Catholique, Paris, and at Strasbourg University. In 2015 Verdon published a major work on Fra' Angelico and in 2017 four volumes on the Biblical sources of the Sistine Chapel frescoes.